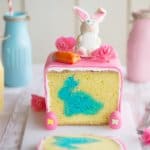 Print
Surprise Easter Bunny Cake
Who doesn't like surprises? Nested inside a flavorful lemon cake is a surprise blue velvet bunny. Fun for everyone!
1

box Blue Velvet

or flavor of your choice Cake Mix

2

boxes Lemon

or flavor of your choice Cake Mix

Eggs

oil, and water according to package directions

1

package Vanilla Cake Frosting

1

package - 24 oz. pink Fondant

or color of your choice
Preheat oven to 350 degrees Fahrenheit.

Make blue velvet cake batter, according to package directions. Bake in a 9x13 baking pan for 30 minutes or follow package directions. Cool the cake in pan completely. Remove it from the pan and level the top using a serrated knife. Lay the cake on a baking sheet and place it in the freezer for at least 30 minutes. Using a bunny cookie cutter, or shape of your choice, cut the bunnies out of the cake.

Line a large loaf pan with non-stick aluminum foil leaving the sides longer than the pan (handles). My loaf pan was 9x5-inch and I left those "handles" really long. I also had to occasionally press them as to keep the shape of the cake even. I'd strongly suggest you find at least a 12" loaf pan. Disposable foil pan would work fine. Grease and dust with flour.

In a large bowl, combine both of the lemon cake mixes according to package directions.

Pour a thin layer of cake mix into the loaf pan. Bake for 5-10 minutes or just enough to firm up so it can keep the bunnies from sinking to the bottom of the pan. Pour about a cup of the batter down the center of the cake.

Line the bunnies on the top in a single row. Pour the remaining batter gently over bunnies. Smooth the batter.

Bake for 70-90 minutes, rotating pan 180 degrees after 40 minutes until a skewer or cake tester inserted into the center of the cake comes out clean.

Cool the cake in pan for 15 minutes. Using foil handles, lift the cake out of the pan and place on a wire rack to cool completely. With a serrated knife cut off the dome of the cake and some of the sides, if you want a more even look. Apply frosting on the top and sides of the cake.

Roll out fondant to 24x5-inches. Cover cake with fondant and trim off the excess. With scissors, cut off the corners and press together (see the end of the video provided). Decorate the cake as you desire. Keep refrigerated.
Calories:
571
kcal
|
Carbohydrates:
127
g
|
Protein:
5
g
|
Fat:
4
g
|
Saturated Fat:
2
g
|
Sodium:
1129
mg
|
Potassium:
72
mg
|
Fiber:
1
g
|
Sugar:
67
g
|
Calcium:
327
mg
|
Iron:
3.2
mg