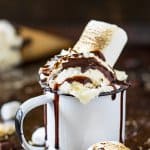 Print
The Best No-Churn S'mores Ice Cream
Bring back summer memories with this cool version of your favorite campfire treat, the best no-churn s'mores ice cream!
Spread the marshmallows on a lined baking sheet into a single layer. Place under the broiler for 2-4 minutes, until the tops are nicely toasted. Watch carefully as they will burn easily. Remove from the oven and set aside.

Put the cream, condensed milk, and vanilla into the bowl of a stand mixer. Beat until thick and soft peaks form.

Fold in the marshmallows, graham crackers, and chocolate.

Scoop the mixture into an airtight freezer container or a large loaf tin, cover with cling wrap and freeze overnight. Enjoy!
~ Free Tip ~ 
Use mini chocolate chips instead of the chocolate bar.
Simplify even more and skip toasting the marshmallows.