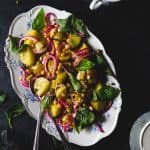 Print
Danish Warm Potato Salad with Corn and Baby Greens
This delicious Danish Warm Potato Salad is hearty enough to stand on its own, but it also makes the perfect complement to your weeknight dinner. It's fast enough for every day and fancy enough for guests.
In a small bowl, mix together the 4 tablespoons of white vinegar, 2 tablespoons mayo, 2 tablespoons sour cream, 2 tablespoons chopped capers, 1 small bunch chopped dill (about 3 tablespoons) and a few chopped or julienned basil leaves. Season the dressing with salt and pepper to taste and set aside.

Wash 1 pound of new potatoes and cook, unpeeled, in salted water for about 20 minutes. Drain and cut into halves or quarters if too large; set aside.

Meanwhile, slice the kernels off the corn cob with a sharp knife or use a corn zipper tool. Thinly slice the small red onion. Put the onions and corn kernels in a pan, add three tablespoons of white vinegar and boil for 2-3 minutes.

Mix the onion and kernels mixture with warm potatoes. Toss in the dressing and top with 3 cups of mixed baby greens.
The addition of crumbled bacon to this hot potato salad is absolutely divine!
When you're short on time, slice potatoes and then cook them in salted boiling water for 5-8 minutes or until tender.
Use crème fraîche instead of sour cream.
Replace baby greens with mustard leaves.
To julienne basil, stack clean leaves together like sheets of paper. Gently roll up the stack into a loose cigar shape. With a sharp knife, slice across the roll to make very thin shreds also called "chiffonade."
For a low-carb option, replace potatoes with cauliflower as in this mock potato salad recipe.
Calories:
187.63
kcal
|
Carbohydrates:
27.97
g
|
Protein:
3.99
g
|
Fat:
6.92
g
|
Saturated Fat:
1.64
g
|
Cholesterol:
6.06
mg
|
Sodium:
179.66
mg
|
Potassium:
629.9
mg
|
Fiber:
3.54
g
|
Sugar:
3.79
g
|
Vitamin A:
420.25
IU
|
Vitamin C:
32.87
mg
|
Calcium:
30.43
mg
|
Iron:
1.32
mg